"

Sonic

's dash attack. He performs a Spin Kick using break dance moves.

"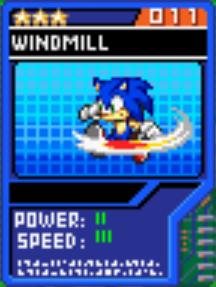 Windmill is a move used primarily by Sonic the Hedgehog in Sonic Battle. In the game, it serves as Sonic's Dash Attack.
Description
When performing the Windmill, the user, while in the middle of a leap/dash, utilizes break dance moves to execute a Spin Kick to strike opponents by sticking out one leg and spinning 360 degrees around himself horizontally in mid-air.
Emerl can randomly obtain this skill after participating in a fight with Sonic, either with or against him.
Skill Statistics
| | |
| --- | --- |
| No. | 011 |
| Skill Points | ★ ★ ★ ☆ ☆ ☆ |
| Power | █ █ ░ ░ ░ ░ ░ ░ ░ |
| Speed | █ █ █ ░ ░ ░ ░ ░ ░ |